When you choose the path of improvement, you know you'll experience more challenges than pleasant moments. The most beautiful success are often outside our comfort zone, and come after a lot of work/effort/setbacks…
Discomfort will even become a key metric that you're heading the right way. That's part of the game, (You know, the ""no pain no gain"" mantra…) and quite quickly you'll get used to it.
But sometimes you're blessed with an easy success. You know when you achieve a great result, with almost no effort. Not necessarily a huge victory, but a little thing that make you voice an happy 'yesss !'
That happened to me today: I received a mail from Anuj Agarwal (Feedspot) telling me that I've been selected as one of the Top 100 Personal Development Blogs on the web.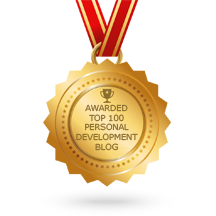 So let me do, what I suggest in this kind of situation: Enjoy and celebrate.